Matthew 24 - Steve Wiggins Daily Devotional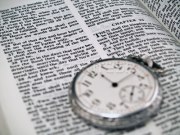 "Then Yeshua replied to them, 'Watch that no one deceives you. For many will come in My name saying 'I am the Messiah', and they will deceive many. You are going to hear of wars and rumors of wars. See that you are not alarmed, because those things must take place but the end is not yet. For nation will rise up against nation, and kingdom against kingdom. There will be famines and earthquakes in various places. All these things are the beginning of birth pains.'" Matthew 24:4-8
When my wife Misti was pregnant with our first child, some friends threw us a baby shower. It was about a month away from her due date. By the end of the evening Misti announced she was in labor. I drove like NASCAR to the hospital!
Two hours later, I was driving Misti home, staring out the window, neither of us talking to each other. Chalk it up to first time pregnancy, but sometimes, false labor feels like the real thing. When in doubt, trust the doctor. We ended up having 2 false alarms before her water broke.
Reading the Bible, and looking around the World, it seems we are living in the last days. I believe Yeshua's return is eminent. War, natural disasters and rank immorality are all signs of the end times. How will one know the difference between the "birth pains" and the actual "day of deliverance?" It will be as evident as a pregnant woman's water breaking!
I say it often, but there are 2 things that confound a fool: 1) How slow G_d is to act, and 2) How quickly He shows up!
Where is Yeshua?
"In My Father's house are many rooms. If that were not true, I would have told you; for I go to prepare a place for you. If I go and prepare a place for you, I will come again and receive you to Myself, that where I am, there you may be also." John 14:2-3
So, why has He delayed His return?
"The L_rd is not slow about His promise, as some count slowness, but is patient toward you, not wishing for any to perish but for all to come to repentance." 2 Peter 3:9
Rabbinic Judaism teaches that Messiah has not yet come. Some even go as far as to acknowledge Yeshua as a prophet, misunderstood by His followers. Don't allow yourself to be led astray. Listen to what Yeshua said and make sure you are following the right WAY, the TRUTH of the gospel, that you may enter into the LIFE promised to all who would believe!
"I am the Way, and the Truth, and the Life; no man comes to the Father, but through Me." John 14:6
Blessings.
~Steve Wiggins, Assistant Rabbi
Shuvah Yisrael
Daily Devotional, Monday, May 13, 2013
Share this page ...